The Advanced Manufacturing Pilot Facility (AMPF) is a 20,000 square foot reconfigurable research and development high bay manufacturing facility supporting industrial, academic, and government stakeholders that also serves as a teaching laboratory. The Advanced Manufacturing Pilot Facility operates state-of-the-art advanced manufacturing core facilities offering a broad range of capabilities and opportunities to engage.  
> The Georgia Tech Manufacturing 4.0 Consortium
Become A Member
The Georgia Tech Manufacturing 4.0 is a membership-based consortium that brings together industry, academia, and government to develop and deploy manufacturing technologies and workforce into the market. By leveraging the latest in manufacturing developments and technologies, members have unique opportunities to compete more effectively to become global leaders.  
Member Benefits:
Access AMPF equipment via the User Facility model  
Participate in workforce training programs.  
Perform collaborative research.  
Demonstrate and test your company's technology.  
Develop return on investment models for new technologies.  
Pilot new manufacturing systems  
Innovate, de-risk, and mature new technologies.  
Achieve economic diversification.  
Accelerate product development cycles.  
Adopt Industry 4.0 technologies.  
Network and partner with other members.
Membership Levels and Required Documents:
To get started and become a valued member of our Consortium, we invite you to review the essential documents provided below:
1) Membership Levels and Additional Consortium Membership Benefits: Learn more about the benefits and diverse membership tiers by clicking this link. 
2) Consortium Membership Agreement: To familiarize yourself with the terms and conditions of our consortium membership, please access the PDF Form.
3) Expectations of Work Agreement: This form outlines the expectations and responsibilities associated with being a member of our consortium. You can access the PDF Form for detailed information.
If you have any questions related to membership, please contact us at gtmi@gatech.edu  
> Conduct Specialized Research Projects
View the contract-continum related to specialized research projects.
Georgia Tech offers contract agreements that enable U.S. companies and our researchers to engage at all stages of R&D. These agreements offer straightforward intellectual property (IP) terms.
Types of contract agreements: 
Agreement Type
Purpose
IP Terms   
 
Basic Research 
To explore fundamental challenges in a technical area 
Opportunity to license the resulting IP 
Applied Research 
To explore a technology's viability and overcome practical challenges  

Fee-based access to the resulting IP  

Exclusive field-of-use rights for specified time period can be extended or converted to non-exclusive license  

To test a product during final stages of development  

Demonstration 
To improve existing technology during product development 
Exclusive rights to any improvements to company's IP at no additional cost*  
Specialized Testing 
To test new and existing products using Georgia Tech's equipment  
 Company owns all test 
* If the improved IP was originally licensed from Georgia Tech, the terms and conditions of the original licensing agreement will be updated to include the improvement.
> Become an AMPF Core User
Whether you are already a member of the Georgia Tech community or a non-GT affiliate user, you can access the AMPF laboratories at GTMI. The following is a guide to gain access to use the AMPF.  
External Users
External users are researchers who have no affiliation with Georgia Tech. This includes researchers from institutions other than Georgia Tech, government labs, and industry. For inquires contact: Mr. Jarod Weber via email jarod.weber@gatech.edu who will walk you through the process. Once we have received and processed your information, you will receive further instructions from our staff.
Internal Users
Join the AMPF Facility Equipment Group:  
Using your GT username and password, log in to sums.gatech.edu
Select "Equipment Groups" from the gold menu bar
Search for and select "AMPF "
Select "Become A Member"
Register for and attend one of the scheduled new user orientations
That's it! You're now a member of the Advanced Manufacturing Pilot Facility
Join your Principal Investigator's Billing Group:
Using your GT username and password, log in to sums.gatech.edu  
Select "Billing Groups" from the gold menu bar
Search for and select the billing group you intend to join
Select the "Join Billing Group" tab
Select the "Request Entry to BG" button
Wait for approval from your billing group administrator
New User Orientation
All prospective users of the AMPF facilities and equipment are required to attend a new user orientation. This training will cover policies, laboratory safety and procedures for tool operation. After attending an orientation and completing the prerequisite training, users will be granted access to AMPF facilities and equipment associated with the training.
Please be advised that some of the AMPF equipment requires extensive training and specific safety considerations.  The complex machine tools and the metal 3D printers will require certified technicians assistance. Scheduling time on these tools will be pending the staff's availability.  
Key contacts for more information:

Aaron Stebner, Ph.D.
Associate Professor
George W. Woodruff School of Mechanical Engineering
Email: aaron.stebner@gatech.edu

Rasha Shawky
Program and Operations Manager Sr.
Advanced Manufacturing Pilot Facility (AMPF)
Email: rasha.shawky@gatech.edu
Georgia Tech Manufacturing 4.0 Consortium Member Companies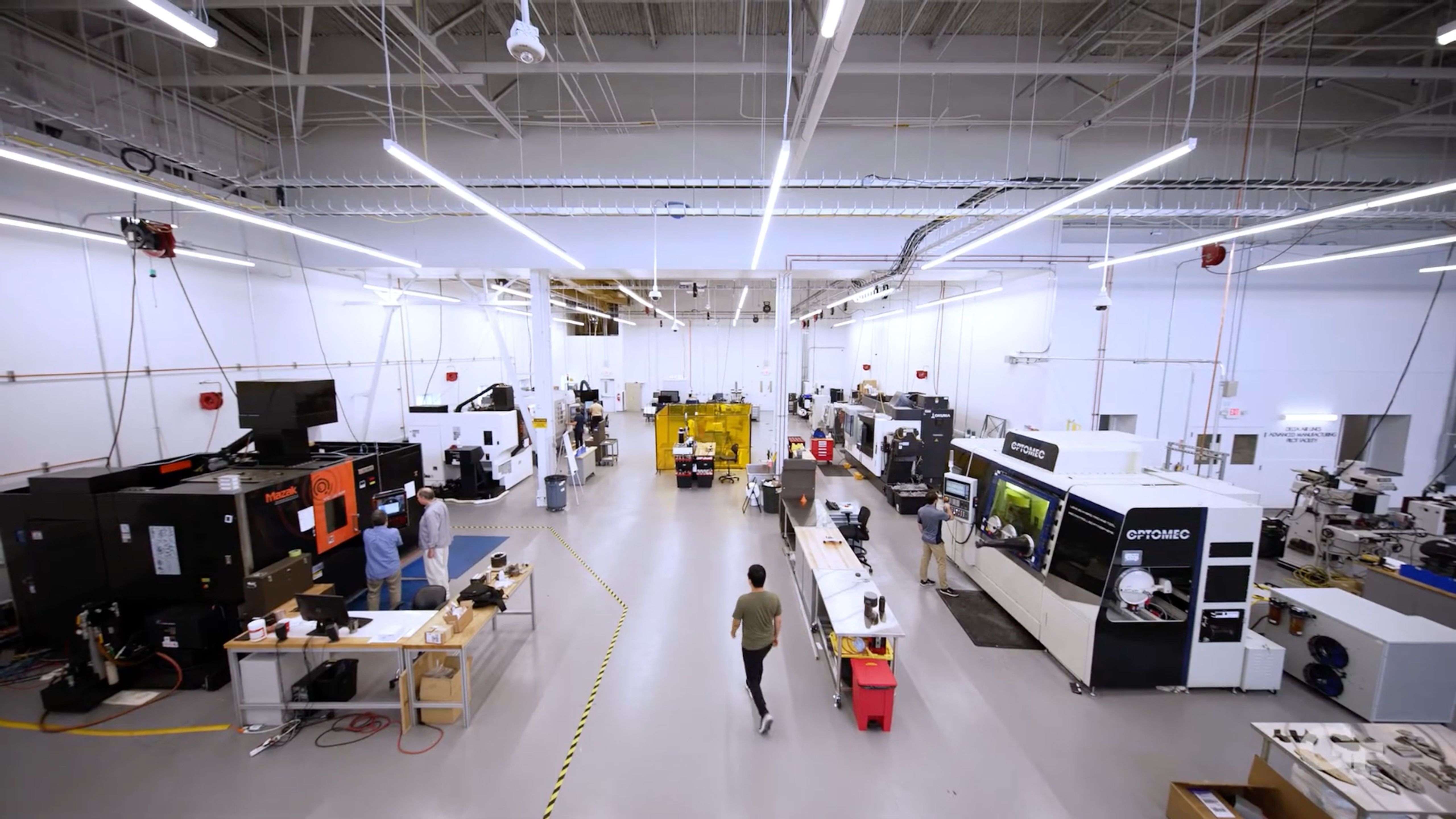 An overhead view depicting the east side of the AMPF facility.