Mission/Vision/Goals
The AMPF mission is to serve as an interdisciplinary research and teaching facility where researchers will collaborate with stakehoders from industry, academia or government to transform future manufacturing concepts into pilot demonstrations and develop testbeds. 
AMPF serves as the "anchor facility" for future development of a Manufacturing Innovation Neighborhood in which companies and start-ups with common interests in advanced manufacturing may choose to locate corporate Innovation Centers. An example of this is the Boeing Manufacturing Development Center, on site in the AMPF.
The vision of the AMPF is to expand the scope and impact of Georgia Tech's advanced manufacturing research by enabling translational development of basic or exploratory research to demonstration of innovation at the shop floor scale for both government and industry sponsored projects.
The goals of AMPF are to:
* Support scale-up and translation of basic research into implementable technologies,
* Provide a demonstration facility for academia, industry and government partners to co-develop and integrate new materials, processes, and digital models to de-risk new technologies, and
* Enable training and upskilling of a competitive, skilled workforce on next-generation advanced manufacturing technologies.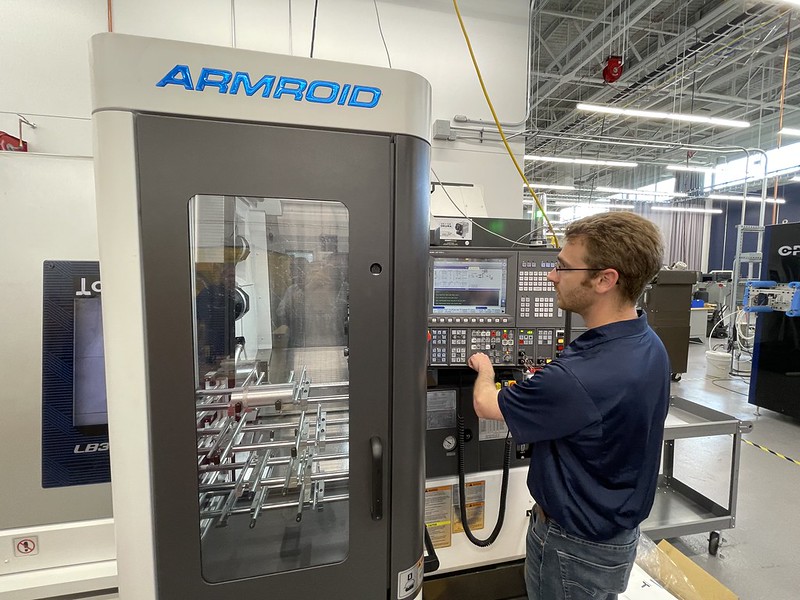 Research engineer Kyle Saleeby demonstrating a built-in robot packaged within the machine tool in AMPF.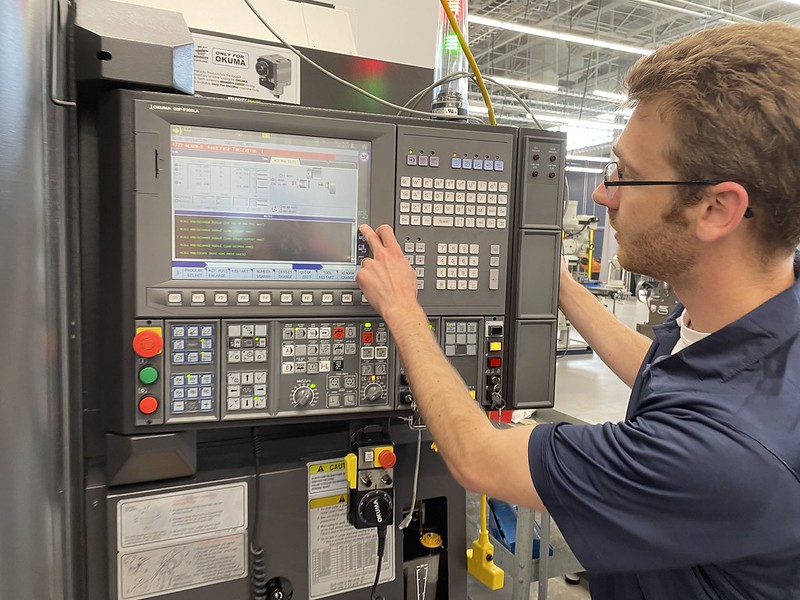 Companies can collaborate with AMPF to help further their manufacturing goals.
AMPF is supporting manufacturing in Georgia
The Georgia AI Manufacturing (GA-AIM) coalition, led by Georgia Tech , has received more than $65 million to accelerate the adoption of artificial intelligence across the state's legacy industrial sectors. The GA-AIM coalition will establish the United States as a leader in AI manufacturing while ensuring these systems complement rather than replace existing workers. Coalition members across the state – such as the Technical College System of Georgia, Spelman College, and the Georgia Minority Business Development Agency – will execute projects to expand awareness, training, and job opportunities to underserved communities and businesses. The GA-AIM coalition aims to serve as a national model for how to accelerate the transition to automation in manufacturing while diversifying the next generation of AI leadership.
AMPF provides GA-AIM with a world-leading proving grounds for cooperative industry-academia-government pilot trials and innovation of new technologies, cybersecurity games, and workforce training to innovate, transition, and create AI manufacturing technologies and workforce with mitigated risk.
AMPF is guided by an ethics (equity, fairness, accountability, and transparency) work stream to prioritize opportunity and inclusion of underrepresented populations while assessing and improving societal impacts of AI manufacturing by supporting a well-trained and augmented work-force using state-of-the-art AI. 
AMPF operates digitally integrated pilot manufacturing systems spanning synthesis of feed-stocks, semi-finished goods, finished goods, manufacturing quality systems, characterization, reducing energy footprints and CO2 emissions, recycling capabilities, wireless communications, and cyber-physical security.
In total, 16 institutions combined to attest that artificial intelligence leveraged for manufacturing using AMPF will create more than 28,800 jobs and $106,000,000 private investment and save more than 10,000 jobs in 4-5 years. Creating a world-leading facility that ensures secure U.S. global AI manufacturing competitiveness for generations will forever invigorate economic equity, prosperity, and resilience in Georgia.